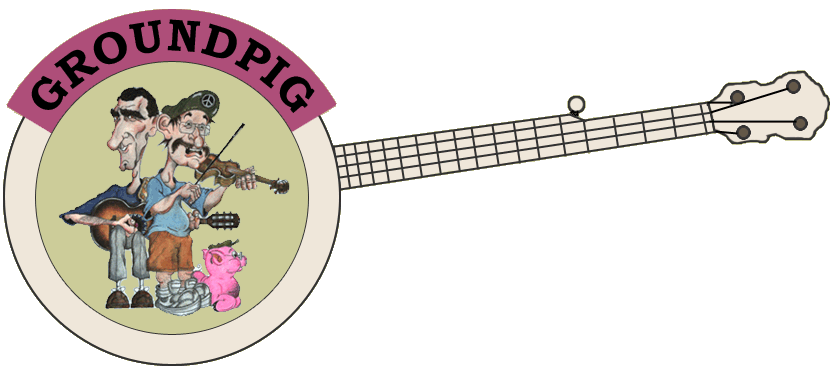 Biography
Hello there and thank you for taking the time out to visit the Groundpig website. Many of you may be familiar with Groundpig, who they are, where they are from and most importantly what they did. But just for the record, allow me to take you as far back as possible in order for you to identify with the different time periods and band members depending on what stage you began watching Groundpig. Before I do this I would like you first to know that this website was created for two reasons. First and foremost, to pay tribute to the late Graham Evans, secondly for Groundpig fans who have devoted their time to the band over the years.

Some of you already know the sad news of Graham's passing on February 5th 2006. This of course meant to all Groundpig fans the end of an era and also the end of Groundpig.
So who are Groundpig and how did it all begin. It all started back in 1979 when John O'Connell found a tiny hand written advertisement on a clipboard in Frank Hessy's music store, Stanley Street, Liverpool. It read, 'Musician wanted to form folk/bluegrass band.' John kept the advert for some weeks then finally called and was asked to audition in Rock Ferry, Wirral, accompanied by a close friend, Eddie Catharell, who played bass guitar. Everything went well in the audition and the four piece folk/bluegrass band was formed called 'Riley' consisting of John Anderson, (Guitar/vocals) Eddie Catharell, (bass) Charlie, (Banjo) John O'Connell (Guitar). Shortly afterwards, 'Riley' became a three piece band, Charlie had left and sold John O'Connell his banjo, so John now moved from acoustic guitar to banjo.

John Anderson was a great singer and nice bluegrass guitarist and he had a large influence on John O'Connell, teaching him some great songs such as Little Sadie, Turpentine Wine and many others which remained in the Groundpig repertoire throughout the years.

Things then took a turn for the better when John O'Connell and Eddie Catharell went to Music College and it was there that John met Graham Evans. John was playing 5 string banjo at the time when in a college performance he heard Graham play the banjo. John was captivated by his banjo playing and Graham's charisma and immediately mentioned it to the band that Graham would enhance the band with his musical knowledge and talent. Once again 'Riley' became a four piece bluegrass band featuring Graham on fiddle. Eventually, John Anderson, the lead singer, moved to Birmingham leaving 'Riley' without a singer. This took the band in a new direction with an introduction of new band members, Kenny O'Connell (lead singer), Steve Maudsley (second singer), Tommy Ainsworth (drums), Les O'Connell (piano), Eddie Catharell (bass), John O'Connell (guitar), and Graham Evans (banjo/violin). This was a good band with some good original songs and a lot of diversity. However, with so many different musical tastes and personal life commitments it was not to last. It disbanded in 1982. This left John and Graham to start a duo which they called Groundhog. John and Graham enjoyed each others company and worked extremely well together. They had to re-adjust, this meant John playing electric keyboard while Graham took lead vocals and began to introduce other instruments such as mandolin, penny whistle, flute and harmonica. After a while Graham encouraged John to begin to sing. This then changed Groundhog from a solely bluegrass band to a more contemporary band.

Graham was 7 years older than John and had worked at Camell Laird's ship yard as a welder for close to 10 years, which in many ways was a healthy contrast to music as it helped Graham to appreciate and work hard at something he loved. This in turn influenced John to work hard and a perfect match of musical interest and humor was enough to take John and Graham on a 26 year partnership.

Under the name of Groundhog John and Graham held a resident spot at the Scooner inn ' Exchange Street East, Liverpool, which came to a close in 1983. They then moved across the same street to a bar called the Crooked Billet and were joined by Paul Catharell on bass, and it was after a gig in Sefton Park (Larks in the Parks) that the name Groundhog was finally dropped after much confusion regarding the rock band 'The Groundhog's,' so Graham came up with a similar name, 'Groundpig.'

They also held a 3 year residence at the Philharmonic pub every Wednesday, which at the time was a very difficult venue to get to play on. Featuring Jazz every Monday and Tuesday, with many great musicians from around the country.

They also began to play in a bar on Dale Street called Daley's Dandelion which was attracting huge interest in Groundpig and it was there they met lead singer from 'The Farm' Peter Hooton, who provided Groundpig with some great venues, playing alongside the farm. One memorable gig was playing on the 'Royal Iris' which sailed up and down 'The Mersey.' It was Memorable because the compare and DJ for the night was John Peel. The Farm were very generous towards Groundpig, always giving them the main spot at collaboration gigs. All venues with The Farm gave Groundpig a chance to play big venues using a professional sound system. They then began two very big venues, one was the old Bier Keller (which is now the 051 club). Groundpig played there every Saturday and filled it every week to capacity. It was probably the most memorable gig for lots of their fans. Another high profile venue was the 'Scotty Club' (Rendezvous club), Great Homer Street. So what was the attraction? Without a doubt it was the various styles of music they played and also the amount of followers which attracted a lot of attention. Groundpig played such a cross section of music that it would be difficult not to like at least something of what they played. From Bluegrass, Simon and Garfunkel, Bob Dylan, Genesis and Jethro Tull, to The Spice Girls, Postman Pat, Spider Man etc. There repertoire was huge, John and Graham had totally different voices which created this huge contrast of styles from Folk, Country to Pop and a range of instruments including acoustic guitar, bass, mandolin, harmonica, penny whistle, banjo, fiddle and percussion.

In 1989 Paul left Groundpig on good terms and it was back to John and Graham. It was difficult for John and Graham for a while; it meant having to use backing tapes which were not very popular with musicians or audiences.

Groundpig entered a new phase, Liverpool was opening many Irish bars such as Flannigan's, Rosie O'Gradys, Guinans and Kitty O'Shays. All these venues where owned by Liverpool businessman Bob Burns, who was delighted with Groundpig and provided them with lots of gigs throughout the years. Although many people thought Groundpig could have or should have been more successful, there was one factor which prevented this and that was original material which John and Graham wrote, but never pushed or took seriously enough, for example 'Billy Join the Army', written by Steve Maudsley and Graham, 'The Insect Song', 'Would you ever leave me', 'Cowboy Song', and 'Banjo Man' all penned by Graham. At the time John and Graham were happy so there wasn't any drive to increase their popularity, unlike other bands such as 'The Farm' or 'Up and Running' who did seem to have a goal and a drive to achieve more, and so they did.
I know there are so many venues and memorable periods that have been missed out. So many of you met your partners at these gigs, had children, and eventually brought them along to see Groundpig. Strangely enough, John and Graham who were Groundpig never had an opinion on Groundpig, except that it began and ended with John and Graham. This is why when Graham passed away it was the end of a very special person who was courageous, honest, funny, unique and so talented that Groundpig became no more.